We are a landscape design/build firm offering the following -

Completed landscape design and installation, from concept to completion.
Landscape plantings
Walkways
Retail Garden Center
Pool plantings
Specimen tree planting
Patios
Garden walls
Ponds
Privacy screenings
Deer Repellant program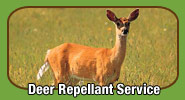 As part of our landscape business, we offer a deer repellant service to protect your plants and keep your landscape looking the way it was intended. We would spray your plant material monthly; using an organic, mint smelling, harmless deer repellant. Our spray works by scent and taste, and will dry clear on your plant material. The monthly cost is minimal compared to the damage a herd of deer can cause in one night.